Can Effective Design Be Fast and Cheap at the Same Time?
Good things don't come easy. In graphic design, the best ideas need time to fully develop and the best quality design doesn't happen quickly. Whether you are the designer or client in this situation, don't fall into the trap of making a design or business mistake by trying to force a design project to be completed immediately and without much deliberation.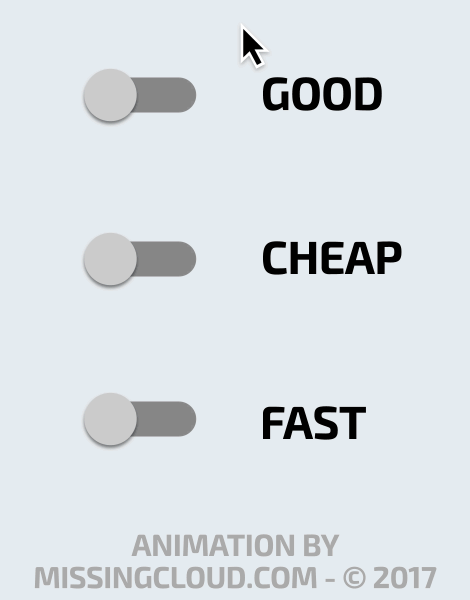 Good quality, cheap price, and quick turnaround time can't happen all at once. You can only choose two.
Before starting a design project, determine your priorities and be willing to make compromises and sacrifices. Between quality, price, and speed, what are the two that matter most to your priorities?
Quality
The concept of quality can be subjective. High-quality design should look good and should serve its purpose effectively. However, there are also some businesses that settle for design that is only visually appealing. Identify the level of quality you need and it will help you make a decision on the kind of solution you're looking for. In addition, it is important that you know the skillset of the designer you need to hire. Ultimately, when outsourcing a design project, you should communicate clearly your requirements for the project.
Price
Affordability depends on your budget, as well as on the worth of the design. If you want good quality design, expect a more expensive cost. But considering the business value that the effectiveness and quality of the design brings, it can be deemed affordable because the price you paid was worth it.
Speed
If you need a quick turnaround time, expect for the price to be more expensive if you are expecting high-quality output with all your requirements applied. Otherwise, low cost and quick design can be possible if you're okay with design that could work, but not exactly super impressive.
When we talk about time, it's not just how long the design is conceptualized and created. It's also about the experience of the designer. Those who are relatively new to the profession may have enough talent to come up with a concept quickly, but it would take them time to really think it through and make the design serve its purpose. On the other hand, if you want to delegate the task to a more tenured designer, they can complete the project quick but at a higher cost. Gaining the experience they have to produce outstanding design at a quicker turnaround time took time and deserves higher compensation.
Summary
In the quality-cost-time dynamic, this is how it works:
effective design + affordable cost = longer turnaround time
effective design + quick turnaround time = higher cost
affordable cost + quick turnaround time = rushed design
Can effective design be fast and cheap at the same time? No. But for design projects with a narrower scope, it can still have good quality and can be produced quicker and at a good price. These types of projects are simpler ones, such as making minor tweaks and simple editing jobs.
At MicroCreatives, we have three different engagement models depending on the scope of your project: hourly, project-based, and dedicated staff leasing. Determine which one suits your needs and your budget. We also offer a free quote!