Tasty Food Mobile App Designs
Who would've thought that food and technology would make such an unlikely but perfect marriage?
Just think, with the many foodies out there snapping photos and raving about the next big food find, they would like to have something handy with them to help them share, discover, and even debate about its importance. On the business side of things, numbers have it that more than 20% of users that visit your site are those using mobile devices, and this number keeps on growing daily. Thus, it's a must to adapt to constantly changing market and try to please the users.
Now, as an owner of any food-oriented establishment, take note that specially designed mobile applications should be an important part of your arsenal in order to attract new customers, avoid losing them, and making them stay.
Still clueless or baffled on what to use? Here are some tasty mobile food applications that won't just inspire you, but will surely whet your appetite as well. These apps aren't just user-friendly but also make use of various fonts, play with textures and colors, and feature clear, crisp, yummy images.
Scroll down and get inspired and hungry!
My Sushi App by Joseph Brown
NomNom by Marc-Antoine Roy – where you can discover and share new recipes from your phone
La Laguna Food&Drink | App by Asdrubal Marichal
iPhone App UI by Oleg Sheremet
Yummy Mobile by Douglas Hughmanick
SnapEat | Logo & App by Luke Davies
Bakery by Mike | Creative Mints
Culinary Treats – Website by Sonika Agarwal
Susie Bon-Bae – mobile app by Mario De Kauwe
N-Receitas-Nestle by Thing Pink Digital & Mobile
The Whole Pantry by Zane David
VM-Guia do Sabor App by Bruno Ribeiro
Rise & Shine App by Anna DeFazio
Slide Menu (code) by Alvaro Carreras
Keto Recipes – Mobile App by Amir Vhora, Pixack Design Studio, Mubin ul haq Vhora, and Tanzila Vhora
WHAT'S COOKING by Pearl Mendonza
Cookspiration App by Whoa Inc.
Daily Specials app project by Ben Dunn
Apetit Online App by Michael Dolejs
Cookish by Emmanuel Mourgue
The Summit | A  Mobile Breakfast App by Stephanie Hawn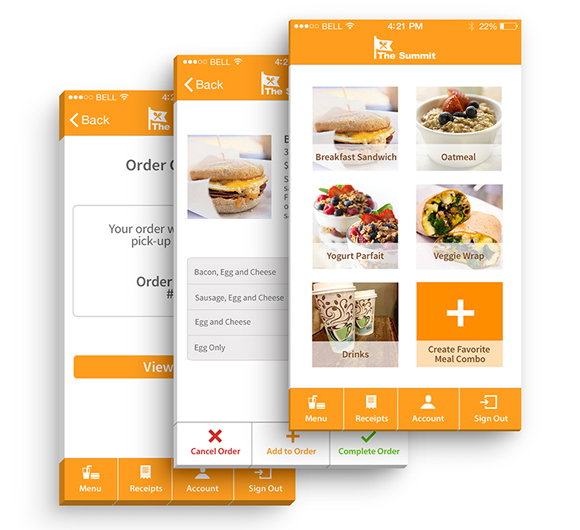 Allo – The Friendly Food Finder App by Ryan Thomas Bennett
Sushi Line Restaurant – Mobile App by victor antonelli
B.Easy iPhone App: Flat Interface Design by Christian Pfeiffer
FoodPocket iOS App by nasserui
iPhone App Store Profile by Mason Yarnell